What is Ecopsychology?

Ecopsychology, or eco-psychology as it is sometimes called, is situated at the intersection of a number of fields of enquiry, including environmental philosophy, psychology, and ecology, but is not limited by any disciplinary boundaries. At its core, ecopsychology suggests that there is a synergistic relation between planetary and personal well being; that the needs of the one are relevant to the other.
What is ecopsychology.org?
Our objective at ecopsychology.org is to provide a public forum for our diverse experiences of the human-nature relationship. Through sharing our connections we hope to provide a bridge towards harmony with the planet we inhabit.
What is on this Site?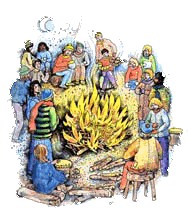 While you are here, please check out the latest issue of Gatherings, the ICE e-journal, as well as back issues, some recommended readings for those who wish to dig deeper, a list of upcoming events from around the world, a directory of researchers and their areas of exploration, a list of people providing therapeutic or educational services related to ecopsychology, and our growing list of links. We've also launched a collaborative Blog: Seeds for Thought, which you are welcome to visit and post your comments.
Or if you prefer, you can take a tour of the entire site by clicking on the small green button named "tour"

located at the bottom of each page. The last button will return you here to the home page.
What is ICE?
The International Community for Ecopsychology (ICE) is an informal, international, interdisciplinary virtual community devoted to reflecting on the questions which arise from an ecopsychological viewpoint.

ICE enthusiastically endorses the Earth Charter.
We urge you to learn more by visiting the Earth Charter website. If the preamble inspires you (and we hope it does!) please visit and sign their statement of endorsement.
Your comments, contributions and suggestions are most welcome. If you have material that you would like to see added here, a favourite book, magazine or journal you would like to add to our reading list, or if you wish to submit an article to the journal editor, please visit the contact page. There you will find e-mail addresses for those have created and maintain these pages.