The International Community for Ecopsychology (ICE) is an informal, international, interdisciplinary virtual community devoted to collective reflection on the questions which arise from an ecopsychological viewpoint.  With our website, journal, and blogs we hope to facilitate communications among people with an interest in ecopsychology and related topics.
Your comments, contributions and suggestions for this website are most welcome. If you have material that you would like to see added to our reading list or links, visit the contact page and let us know.  We welcome submissions to our online magazine / journal Gatherings.
More about the members of ICE and those who have created and maintain these pages can be found here.
THE ICE LIST-SERVE
A small list-serve was started in February 1998 by people who had been on a larger EP list and wanted somewhere more intimate to get to know and trust each other. Unmoderated, with participants ranging from academics to activists, clinicians, environmental educators and wilderness teachers, the Ecology-Psychology list examines many of the issues mentioned at ICE in greater depth. To inquire about joining, leave a message on the contact page with a little about yourself and why you want to join. There are no entry requirements but active participation is welcomed.
ICE enthusiastically endorses the Earth Charter.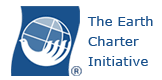 We urge you to learn more by visiting the Earth Charter website. If the preamble inspires you (and we hope it does!) please visit and sign their statement of endorsement.