Deep Ecology: Steps to a new worldwiew
Posted on August 23, 2008 by Amy Lenzo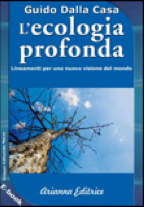 L'Ecologia Profonda – eBook
Lineamenti per una nuova visione del mondo
Author: Guido Dalla Casa
Price: € 5,90
Summary in English:  Deep Ecology. Steps to a new worldwiew. Pangea, 1996 – Arianna, 2008 (Ebook)
Summary
1 – Introduction                                                                        
2 – Shallow ecology
– Foreword
– The limits to growth
– The exponential growth
- New limits to growth
– Present situation
– The meaning of environment
– Natural Parks
– Ethics and right questions
– The wrong illusion of two systems
– Energy
– Some notes
3 – Deep Ecology
– Foreword
– Background base of Deep Ecology
– Some aspects of the present crisis
– Ethics in deep ecology
– Native chief Seattle's answer to U.S. President
– Examples
– From a sentient being far from us
– Objections to deep ecology
4 – The myth of origin                                                               
– Foreword
– Dogon (Afrika)
– Asmat (New Guinea)
– Bororo (South America)
– Lakota (North America)
– Tahiti (Polinesia) and Australia
– Western culture
– Some tradition out of the West
– Summary and conclusions
5 – Materialism and growth                                              
– Descartes – Bacon – Locke
– Other thoughts of some centuries ago
– Growth
– Demography
– A myth
– Biosphere
– The so-called sustainable growth
– Ethics of work and Ethics of Earth
– Consumes
– Some citations
– Background of industrialism
– Ceronetti's opinion on growth
– About Descartes' phylosophy
– Notes on the idea of progress
– Summary and conclusions
6 – West – East – Animism                                    
– Foreword
– Attitudes on deep ecology
– The great question (existence of God)
– Metaphysics middlemen
– Struggle
– Truth
– Hunt
– Individual
– Progress
7 – Some trends in present thought
  1 – Biology  –  Psychoanalisis – Anthropology
– Foreword
– Biology
– Evolution
– Evolutionism and creationism
– Gaia
– Ethology
– We and other animals
– Present researches
– A penguin
– Psychoanalisis
– Anthropology
– Ecopsichology
– Free willing
8 – Some trends in present thought
2 – Physics – Cosmology
– Foreword
– Classic Physics
– Special relativity
– General relativity
– Consequences of relativity
– The uncertainty principle
– Quantum physics
– The quantistic vacuum and the idea of "existence"
– Schroedinger's cat
– Local realistic theories
– Entanglement
– Bootstrap
– Cosmologic theories
– Bulk matter anthemns
– Tachyons
– The anthropic principle
– Systemics and collective beings
– Complex systems' evolution
- The end of any certainty
– Examples
– New ethics
– A summary
9 – The reductionism of science 
– A debate along centuries
– Interview between science and scientific method
– Big Bang and other "certainties"
– Thermic death or enthropic end of the world
– The so-called miracles
10 – Holistic worldview
– Foreword
– Contraries
– Different worldviews
– Stability and motion
– Deep Ecology and Catholic world
– Conclusions
11 – What can we do?
– Foreword
– Gross National Happiness indicators
– Training
– Some actions
Appendix –  The Manifesto for Earth                                     
Deep Ecology Platform                                             
Two types of ecology are explained:
– "shallow ecology" that maintains the central position of mankind;
– "deep ecology" that denies the current background ideas of western culture.
Only with the second type of ecology we have some hope to save the Earth.  There's some hope coming from many branches of science, also if  in minority flow.
As a practical work, we must spread in any way deep ecology background ideas, usually not known to people.
In the new issue of the book (Arianna, 2008) many important news are added:
–       New results in science in the field of system dynamics and emergency of mind in complex systems (i.e. living beings);
–       New researches on limits to growth;
–       Some background phylosophical questions in a deep ecology reference contest;
–       the "Manifesto for Earth" and "Deep Ecology Platform".
You can order the book:
– as a normal printed book in the 1996 edition;
– as an e-book  entitled L'ecologia profonda. Lineamenti per una nuova visione del mondo. (2008 edition)
Please watch the sites www.ariannaeditrice.it and www.macroedizioni.it
 Or you can send a mail to:
ordini@macrolibrarsi.it    or Fax  0547-345091.    By ordinary mail to:
Golden Books s.r.l.–Via Savona 70 – 47023 DIEGARO di CESENA (FC) (Italy)