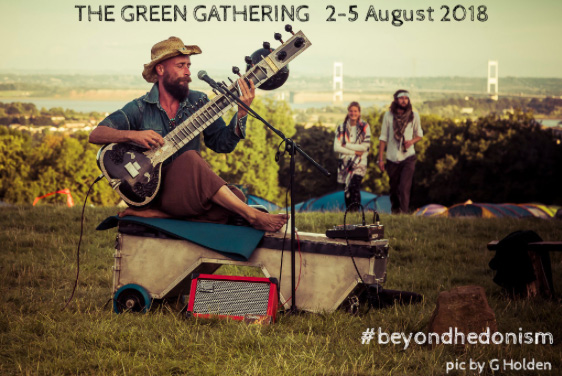 The Green Gathering is an extraordinary event that happens over several days every year in the UK. When I lived in England I attended with my partner and co-founder at riverOcean, Clive Pepe.  We went in style with the full-sized yurt we used for our community festivals, and loved every minute of it. The all-solar-powered gathering is set in a beautiful meadow, like an intimate "Green" Woodstock with the creativity of a super-mellow verdant Burning Man, complete with wonderful music, outstanding networking, hanging out, and friend-making opportunities, and free classes in everything from permaculture to bronze-casting. You can still snab a Early Bird ticket for 2018 – only £90 from the Bristol Ticket Shop.
Check out their website for more information.
At the 2017 UK Festival Awards, the Green Gathering was awarded with the Greener Festival Award for outstanding commitment to reducing greenhouse gas emissions and creating positive social impact.