Moved by a Mountain, Reviewed
Posted on December 8, 2013 by Amy Lenzo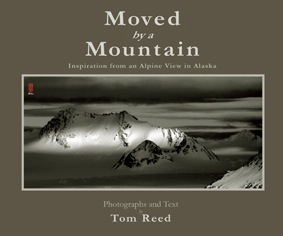 Moved by a Mountain: Inspiration from an Alpine View in Alaska
Photographs and Text by Tom Reed, 2013
Soft cover, $21.95
Published by Wild Coast Media
Reviewed by Amy Lenzo
Having visited Alaska for the first time earlier this year, where I was enchanted by the ever-changing vista, I was intrigued by this new book by photographer Tom Reed and its focus on a particular mountain in Alaska's majestic Kenai Ridge.
I usually "read" photography books like this visually first, and Moved by a Mountain richly rewards such an approach. The images are stunning – beautifully composed monochromatic photo-paintings with a distinctive red-ink chop strategically placed to complement and complete each one.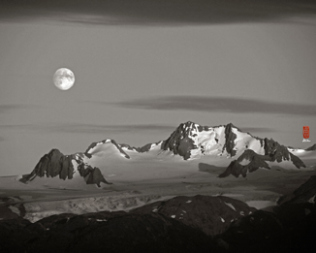 Reed uses simple "point and shoot" cameras to create his art, which is something I almost can't image as a photographer (and admitted gear-freak) myself, given the amazing results he has achieved. I frankly don't know of any point and shoot that could handle what he's done here.
Whether mist-laden, crystal clear, or – more often – seen in evocative combination, the photographs hauntingly reflect the mountain's immensity and solitude, and give a viewer the sense of an almost unearthly peace. The photographs alone stand as testament to the sense of wonder that has "moved" the author (and – inevitably – those who see them), but the accompanying text reveals a deeper look at not only the human connection with mountains in general, but Reed's relationship with this particular one.
The narrative draws on a fascinating history of human response to the power of mountains and how it has evolved from a pre-17th C gothic "sublime", which carried a sense of foreboding and gloom, to a more modern view of almost religious wonder.
Grounded in the reality of homesteading in this land of harsh beauty, Reed's story is illuminated by the awe he so clearly feels in the presence of this particular Alaskan mountain, aptly named "The Throneroom", in whose shadow he's built a home. Reed can see the mountain in every changing light and season from his cabin window, and he brings its inspiration to us through the images and text of this very special book.
Ultimately Moved by a Mountain is a mature reflection on a spiritual odyssey into the wonders of the natural world that Reed began with his first book, The Avatars of Patagonia (reviewed elsewhere in Gatherings), laid out with well-chosen quotes from luminaries like Chogyam Trungpa, Joseph Campbell, Krishnamurti, Jon Kabat Zinn, and this one – my favorite – from eco-philosopher Henryk Skolimowski:
"The first act of awe. when man was struck with the beauty or wonder of Nature, was the first spiritual experience."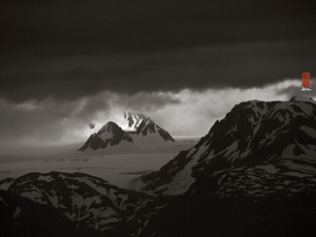 After having received a glimpse of the pristine clarity of a mountain top revealed by the sudden drawing aside of a curtain of storm clouds and fog, Reed's commentary shows his own depth of spiritual understanding:
"There is a traditional Zen statement that can be translated as "Clouds leave, blue mountain appears." Seeing the mountain is a metaphor for the experience of spiritual insight. Suddenly we realize that we have been living in the cloud of our own mental construct, our fantasy of reality, and our concept of self. The truth has been there all along, eternally, but we've been trapped behind a veil of mist, unable to see."
It's my hope that all who see this book will be moved by its beauty, as the author so clearly intended, and have their own experience of seeing behind the misty veil of "normal" life.
Here's a video of Tom Read showing us his book:

*   *   *   *   *   *   *
Tom Reed is trained as a geographer, and is a wilderness photographer and author who has worked as a surveyor, river guide, sailor, fisherman, somatic therapist, artist, carpenter, martial artist and, currently, a hypnotherapist. Reed lives in northern California, where he also offers slide presentations to clubs and organizations.
His books and photographs are available at www.tomreed.com (be sure to check out his excellent blog)