New Book – The Green Troubadour
Posted on April 4, 2016 by Mary Hernandez
Responding to the question of whether shamanic practice can be coupled with the performing arts, David Sparenberg promotes the concept of ecosophy as the integrative link between these seemingly distanced forms of embodiment.  In The Green Troubadour, he looks at ways in which ecosophy can be the common understanding — the value system — weaved into both the process and the outcome of performance.  In the actor, therefore, we find the eco-shaman performing, healing, and being healed.
The definition of ecosophy in this book is consistent with Arne Naess' version of combining ecology with philosophy which affords deep respect to nature and other natural beings (Sahtouris, 2014).  And it is this philosophy that Sparenberg hopes will permeate the different layers of acting: the acting method, the theme of the performance, and the performance itself; something he refers to as greening (p. 15).
The Green Troubadour provides an expanded explanation of the bridge between shaman and actor, healer and performer.  Various exercises are offered to increase opportunities for creating this green connection and for strengthening ecologically-minded manifestations.  For example, on page 36, he wrote: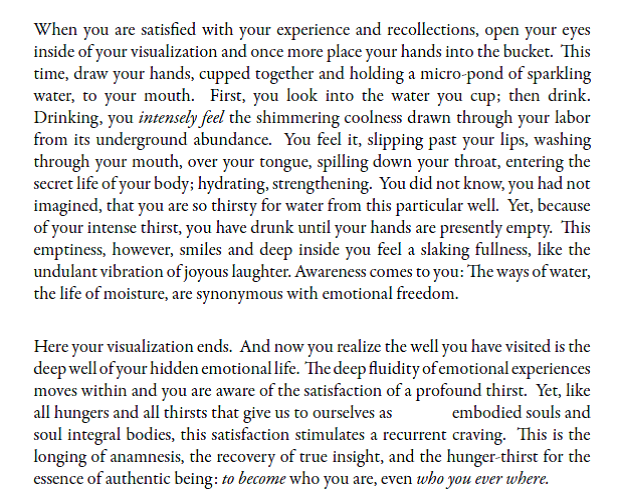 Performing artists concerned about nature and its preservation, performers who rebel against "the territorialized performance" borne of the "dominating capitalistic model" (Performance blog, 2007), artists of all kinds, eco-based practitioners, and other like-minded persons can find the electronic version at http://www.ovimagazine.com/cat/56
The book is available for free and can be downloaded.
References:
Performance Blog (2007).  Ecosophy and performance art:  Short test for the La-bas seminar in Cable Factory, Helsinki 6.5.2007 – Retrieved from http://teronauha.blogspot.ca/
Sahtouris, E. (2014).  Ecosophy: Nature's Guide to a Better World.  Kosmos Journal, Summer 2014.  Retrieved at http://www.kosmosjournal.org/article/
Sparenberg, D. (2016). The Green Troubadour. Ovi Magazine. Retrieved from http://www.ovimagazine.com/cat/56