Tending to Trees
Posted on November 30, 2009 by Amy Lenzo
a poem by Mary Sokol, PhD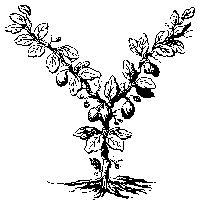 Newly arrived,
this Spring day and I
to this place.
I,
walking the perimeter
exploring color and texture,
of land,
ground,
forest.
Woods reveal
themselves
to me,
woods,
frame in
my land
frame
my home,
woods defining me.
Looking up
branches touch sky
green to blue, grey to white.
Looking into perimeter.
I try
to comprehend
try
to know intimately
shapes
and better acquaint
myself
with hue and life
things
here and new.
Then
I see and smile in surprised recognition
the familiar…
clusters of barely grapes
purple, deep and drying
falling in clusters from trees,
leaves green and yellow both,
shape and size and color
the same…
Grapes, yes,
old friends of lore
of allegory, of scripture, or travel, of
parable of fable…
Grapes of life and joy, renewal
Here now in my home.
But… pause…
These though are different
somehow…
A question…a puzzle…
These,
seem less
like those I knew
full and alive;
Those of memory
were
in rows ,
secured and tidy,
kept by some vintner
for a table of warmth and love and friendship
to mark as sacred time's passages.
These here
now
are
wild and untended
strange.
These, here,now
I
mis-thought were
Treasures
Gifts
Volunteers
for a this same table of memory's  joy.
Gifts free
for me. I
mis-understood.
Smiling, first
in false recognition
Unknowingly
I
thought my-self
a free receiver of plenty.
New to these woods,
now,
awakening
my neck is strained looking
upward
toward sky,
my head tilts to treetops,
taking in a vast array
of twining vines
all.
Slowly and in humbled quake
I seek to Comprehend
and what is before me…
an unending weave
of knots,
grape vines ,
upon vines,
upon vines,
upon vines,
upon vines,
endless tangle.
Understanding more,
It is revealed to me
that these grapes
and
their harvest are not gifts.
What I know of grapes
falls
and is lost.
I am left vanquished.
Amicable allegories abate.
What was seemingly treasure,
strangles.
These vines untended
force life to bend
in crippled stance
gasping, choking.
Vine after
vine
after vine,
small tentacles
winding
their way
around
branches and trunks
small and large
alike
old and new growth,
weaving in and out
sparing
none-
All are seemingly
taken.
Then,
a bending,
breaking
quaking Aspen
stretches
and
in a contorted arabesque
of survival
it meanders
out of place
still
reaching for sky
in between pressured vines
holding it
captive.
I
squint to see meaning
now blurred
as is sky.
I recognize now,
these are not yet my woods.
They belong
to these
others
now,
strangers,
interlopers,
vines
who have taken
an untended, wild forest
Here
powerful and deadly
crushing life
within
making all life
here, theirs
forcing submission
under
their weight,
with their years of climbing
up
and into
and around,
suffocating.
I Realize
I must
earn and free
this land
to know it, to help
it
reveal itself
for its own purpose.
From this new view, meandering still,
I become
worker,
I take stock of a new vision of these woods
and I wonder
What does it need to return?
I Listen.
I Stretch.
I Climb.
I Reach.
I Gather my bended self
and tools
shapes and sizes all-
a saw, a blade, clippers, poles, a ladder,
a rock upon which to stand, for a moment,
some twine.
Together,
we free the small
then the large.
We cut down the vines,
cut them close to earth, cut them
embedded
from branches and trunks
so hard to undo
like wrapping and ribbon.
Then
I feel,
the earth shakes and trembles,
tops spring
back toward sky
I watch
and vines
fall and cascade down;
Still a worker,
I pull
and pull
and pull,
more
gathering of myself, of them,
as I can,
turning, unwinding, freeing;
effort upon effort
Vines now down from heights
fallen low;
I must shield my eyes from
the showering
of dust, dirt, bits of branch and vine both-
falling down.
So much is released.
Then,
I hear Silence
and open my eyes and See.
Finally,
the
tallest
vine
falls.
I feel the trees freed,
one
and then another.
I take stock newly now-
I sigh
relief fills my heart, my lungs, my soul,
I Breathe.
I View
the broken and bending wood,
vines severed and covering ground
branches moving, finally, toward sky,
slowly, quaking,all-
making their way back…
not quite,
yet there,
but sometime
soon or later,
perhaps when they will.
I Hope.
Thankful.
Alive.
I make my way back
up the edge,
the woods,
the perimeter,
Knowing
better this land,
Intimately,
Newly released and free.