The Nature Kids Institute
Posted on March 14, 2016 by Mary Hernandez
The founder of Nature Kids Institute (NKI), Kenny Ballentine, adds to the growing voice of nature-based organizations whose raison d'etre is to strengthen children's familiarity and bond with the environment.  Through his organization, the Nature Kids Institute, his simple message is — help children develop a relationship with nature by promoting the idea that children should spend more time in natural areas.
The premise behind NKI's message is that people care more about those persons, places, or things with whom they have relationships.  And what better time to develop a relationship than in childhood!  Adults, as decision makers and guides, are called upon as pivotal agents in growing the relationship between kids and nature.  Thus, NKI's tools are intended to help adults introduce and maintain nature in children's lives.
Nature Kids Institute developed resources for parents, teachers, and other interested adults.  These resources are free, very easy to use, and with all the important concepts beautifully depicted on one sheet.  One example is the Nature Connection Pyramid.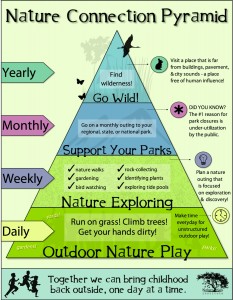 This sheet efficiently displays the recommended minimum intervals of time to be spent by children in different types of natural areas.  The beauty of these recommendations is their consideration for the urban realities of the current modern world, making this sheet pragmatic even for those who live in nature-limited places.
Other equally practical and downloadable sheets accompany an online course that NKI put on their website:  www.naturekidsinstitute.org  Like NKI's other resources, the online course is offered for free.  Leaving these resources open to everybody underlines the founder's commitment to a better and more sustainable world.
(Gatherings would like to thank Linda Buzzell for sending the link to the Nature Connection Pyramid through its mailing list)
written by Mary A. Hernandez