Wild Swimming Revisited
Posted on June 12, 2008 by Amy Lenzo
by Harriet Greenwood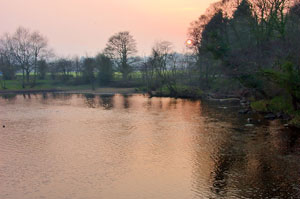 Wild Swimming has certainly caught on in the UK at least since I reviewed Roger Deakin's Waterlog eight years ago
Two new books out this year chronicle the best places to swim, paddle or plunge outdoors in Britain.
Wild Swimming by Daniel Start has a wide range of swims, paddles, dips, currents to play in covering rivers and lakes all over Britain, with maps water quality, nearest train station. Lovely to see my river Wharfe favourites strung like a little necklace on the Dales map, and they are all accessible by bus. He's also started an associated web site and email group, encouraging people to add their own favourites via google maps too. Whether at home or on holiday if you live in these isles you can find somewhere to follow the lure of natural water.
Wild Swim by Kate Rew is also beautiful and inspiring, and complementary in that it includes sea swims and lidos. Many famous swims like Galleny Force and the Faerie pools of Skye are in both books. Lots of swimming freezing lakes in wet suits and crossing estuaries.
I found it less accessible than Daniel's book though, more for the wild swimming equivalent of Monroe baggers than ramblers. At my local swimming hole yesterday was a young man in goggles, wet suit and flippers stroking up and down the river. As I swam by with my leisurely breast stroke I said hello, and he replied OK? as if he thought I might need rescuing. Two extremes of the wild swimming community.
But devotees will want both books, and they would grace the coffee table of even the most aquaphobic for the pictures alone.
Our hero Roger Deakin was certainly an adventurer, contemplating the Corrievreckan whirlpool, plunging into potholes, mercifully drawing back so we would have his wonderful Waterlog and he would die peacefully though sadly young in his bed.
=================
Harriet Greenwood is now retired from the world of paid work and can concentrate on singing swimming and saving the planet