Jon Barfield muses on the question What is EcoPsychology? as part of a conversation on the ICE mailing list.
November, 2006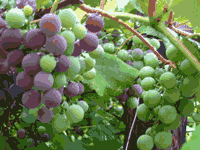 "Garden Grapes" ~ Minnesota
Photo by Amy Lenzo
John Seed has an article on Ecopsychology published as a visiting author's page on Shumacher College's website. Read other articles of his on his own website.
November, 2006

Three essays on Ecology, Ethics, Physics & Deep Ecology submitted by Italian reader Guido Dalla Casa.
August, 2006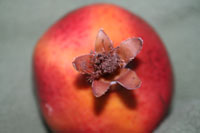 "Pomegranate"
Photo by Amy Lenzo
We are pleased to present two new articles by ICE member Ronen Berger on applied Nature Therapy. Ronen runs post- graduate applied therapeutic and training programs in Israel, including 'Encounters with Nature' for children with learning difficulties. Both articles have recently been published in other prestigous journals.
August, 2006

University of N. Carolina student Joseph Wilkerson examines energy consumption as a substance addiction in Energy and Psyche: Resource Addiction in the Technological Age.
July, 2006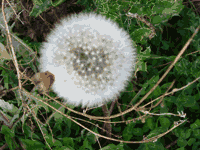 "Dandelion" ~ New Mexico
Photo by Amy Lenzo
Jeanine Canty, Doctoral Student at the California Institute of Integral Studies compares environmental doomsterism and poverty consciousness in Environmental Healing: Shifting from a Poverty Consciousness.
This article was originally published with the former John Mack Institute, but when it was temporarily closed, all the articles on ecopsychology and ecology studies were removed. We're very pleased to publish it here.
January, 2006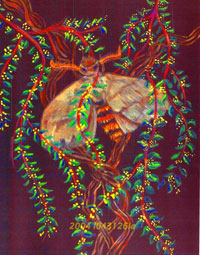 "Amazon Moth "
Painting by Lyndia Randice
Lyndia Randice
shares her artwork,
Connecting Eye to Heart to Soul
, inspired by living with an indigenous community in the Amazon, and her work in inner city New York.
January, 2006

Photograph by Ian McAllister©, donated for the following poem by Raincoast Conservation

Creekwalker, a poem by John Beaton:
He jogs the hop-scotch patches worn to the earth
through treefrog-greens and sunlight spears and sparks
where grizzlies yield fawn-lilies careful berth,
confining their paws to these well-trodden marks

that stitch the forest...
Read On for More...
November, 2006

Juicy, Wild & Fertile
"Ecology and psychology, having grown up on different sides of the mountain, met one day in the thick brush at the ridge line separating their home territories. Their first contact was awkward and hesitant. They began to circle, they danced, and finally they joined.

Their offspring are twins. One is vigorous, skillful, joyous, and sustainable environmental action. The other is the wonder, intimacy, healing, expansion, and grace of finding ourselves at home in the world. They realized, too, that there was much work to be done together. There were other such liaisons in the thick brush at the edges, but this one was particularly juicy, wild, and fertile. "

~ from a course called Ecopsychology and Environmental Psychology, taught by John V. Davis at Naropa, CO, USA
December, 2006


"Passion"
Photo by Amy Lenzo

Mulch, a wonderful poem by Linda Hasselstrom,

submitted by ICE member Sylvie Shaw, editor of

Gatherings issue#8

.


November, 2006





"October"


"Blue Field"

Canadian Heidi Thompson is a mystic

who understands the nature of

Matter, Energy & Mind

through her engagement with Vipassana meditation and paint.


September, 2006

Poet Maryann Corbett

sent us this incredible poem,

The Birders at Miesville Ravine

, on the delicate spiritual thread that vibrates between humans & the natural world.


September, 2006


"FIre" ~ Santa Cruz Mountains
Photo by Amy Lenzo

Native American writer John Wickham

comes across

Lion Tracks

while hiking in the Colorado wilderness...

July, 2006

Mary Jenkins & her Swedish friends the Warff-Radhes share their diary of a Christmas spent camping in an old penitentiary on the paradisiacal Tasmanian island of Maria.
March, 2006

In Praise of Water by Ian Johnstone

is a lyrical ode to this most precious of natural resources.

January, 2006


" I welcome all the creatures of the world with grace. "
~ Hildegarde of Bingen


Garden Variety Healing by Burl & Merry Hall

brings a message of hope and nurturance through an engagement with ones own back yard.

January, 2006

"Poetry is one of the most sophisticated forms of environmental advocacy!"
A poem by Peter Carroll called A Sense of River...
January, 2006
Ann Archibald and John Scull review The Psychology of Environmental Problems, by Deborah Du Nann Winter & Susan M. Koger.
December, 2006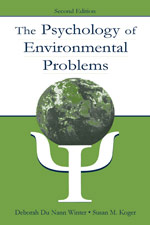 Circling San Francisco Bay: A Pilgrimage to Wild & Sacred Places by Ginny Anderson goes significantly beyond the scope of a standard guide book, introducing unusual walks and eco-adventures within a context of healing ritual.
If you live in the bay area (or are planning a visit in this exceptionally beautiful region), this is an invaluable guide to the places where inner and outer worlds meet.
November, 2006

"Wet Leaves"
Photo by Amy Lenzo
Ecotherapist & ICE member Linda Buzzell-Saltzman is interviewed by Plenty magazine contributor Liz Galst for the Independent Media Program, Living on Earth. Listen to the audio file and/or read the transcript here.
December, 2006
Jorge Conesa-Sevilla's new book Ecopsychology as Ultimate Force Psychology is now out on XLibris Random House... have a peek inside this subversive look at psychology today.
October, 2006
Announcing an upcoming conference on Sacred Activism: A New Moral Compass for America, in Tulsa, Oaklahoma, May 10-12, 2007
September, 2006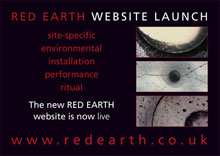 UK-based site-specific performance artists Red Earth have finally launched their new website! Check out this amazing body of work...
September, 2006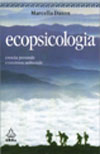 News from the Scuola di Ecopsicology. Our Italian friend Marcella Danon's new book on Ecopsychology is the first book on the subject published in Italy. She's sent us a translation of the Introduction and ToC.
August, 2006

Here are a couple of new sources of inspiration & information: 'Ideal Bites', a daily email of beautifully presented 'Green tips', and the interactive, content-rich 'TreeHugger.com'.
February, 2006
***********************
Announcement!
The Greening of Therapy, an article on Ecopsychology by Monika Rice, in which many members of the ICE community were interviewed, is in the February issue of Spirituality & Health magazine... Now on Newstands!

"Swimmer"
Painting by Guy Waren
Sylvie Shaw reviews Australian artist Guy Warren's abstract landscapes in Searching for Gaia through Paint
January, 2006
John Scull reviews Super, Natural Christians, a book by Sallie McFague exploring Christian spirituality and nature.
January, 2006

New Cookbook:
Fields of Plenty: A Farmer's Journey in Search of Real Food and the People Who Grow It
by Michael Ableman
In the face of supersizing and a fast-food nation, a growing community of organic farmers and food artisans are producing sustainable nourishment that is respectful to the land and rich in heritage, flavor, and passion. In Fields of Plenty, respected farmer, teacher, and ecology advocate Michael Ableman seeks out these innovative and committed farmers to reveal how the fruits of those who till the soil go beyond taste.
January, 2006