When environmental educators in Canada asked our Minister of the Environment to honour the commitments made by Canada at the Rio Conference in 1992 and contained in Chapter 36 of Agenda 21: "Promoting Education, Public Awareness and Training," we knew we had to consult this large and diverse community of dedicated people to determine what they felt were the priority issues. How does one gather together hundreds of environmental educators in a country as large as Canada? Via the Internet. By traveling to interested communities.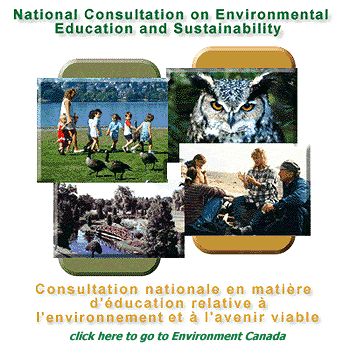 Prior to creating our web site and posting a questionnaire which could be answered directly or down-loaded and mailed back to us, we gathered together some of the leaders in the field who encouraged us to talk about the values which should be the pillars of an environmental education strategy. They also urged us to build from one event to the other, instead of duplicating our efforts as we traveled throughout the country to meet little groups in their communities. We listened to this advice and received hundreds of good ideas from people in all walks of life (parents, fire-fighters, medical doctors, non-government organizations, municipal workers, and teachers). All had ideas about how formal, non-formal and informal education should happen in Canada.

From these pre-consultation meetings, we gathered enough information to develop a questionnaire and within a month, over four-hundred people had responded, giving us considerable food for thought as well as inspiration. It is guiding us in crafting a strategy document which will be tabled at the United Nations in the year 2002. We expect another several hundred people to contact us in the next couple of months.

From the volume of responses, it is clear that environmental educators want to be heard and that they want to discuss these issues in groups. They have something to say and are concerned that all of society needs to learn about the environment to make sure the planet survives. They are saying that environmental education is life-long learning and that it should happen within and beyond the classroom walls.

Each person gives us a germ of an idea which we haven't received from any other place which makes me realize the wealth of ideas around us.

In the meantime, communities all over the nation are inviting us to meetings with interested citizens. We are making every effort to visit those people who want to talk to us. The web site itself will be live until October 31, 2000, and we will be happy to receive completed questionnaires by one and all until that date. Will you join us in this discussion? Log on at Environment Canada, or phone me at our toll-free number, 1-800-667-6868. Comments from outside Canada are welcome!