Drive through the landscape and it is pretty and flat as a picture. Wander through it on foot and you are part of it, your other senses have time to engage, brain soothed into a reverie. Forget getting from A to B, walk on the fractal edge, follow your attraction to the riverbank, the sea edge. Paddle into the water until you can step off the ground and float.

I have an early memory of standing in the edge of the sea, entranced. As an unhappy child I read Charles Kingsley's Water Babies (Puffin; ISBN: 0140367365) with longing and recognition. Given the chance, babies can swim before they can walk. All children seem to have this deep attraction. Most adults, especially women, have lost it. Except for a week on the beach if your body is deemed acceptable to be exposed.
This love of water is usually transformed into more organised goal oriented pursuits, surfing, fishing, serious competitive swimming. I'm used to being seen as odd for my compulsion to bathe in natural water. Rarely I encounter others, like the wonderful women from Hampstead Heath's women's pond, some of who swim all year round into their eighties. Or on holiday in Scotland some of us swim naked in a loch, where I once watched a kingfisher dive, catch a fish and fly off with it and then amazingly return to catch and eat another. It was totally unafraid of this silent swimming head inching closer and felt like the spirit of the loch itself, come to reward me for my faithful worship.

So I was excited to discover a book by a fellow wild swimmer. I have an identity! Waterlog by Roger Deakin (ISBN: 0099282550) is a journey round the coast and rivers of Britain in search of bathing places.
"When you swim, you feel your body for what it mostly is - water? To swim is to experience how it was before you were born. Once in the water, you are immersed in an intensely private world as you were in the womb? The swimmer experiences the terror and bliss of being born.
So swimming is a rite of passage, a crossing of boundaries; the line of the shore, the bank of the river, the edge of the pool, the surface itself? You are in nature, part and parcel of it, in a far more complete and intense way than on dry land and your sense of the present is overwhelming?
Most of us live in a world where more and more places and things are signposted, labelled and officially 'interpreted'. ? turning the reality of things into virtual reality. It is the reason why walking, cycling and swimming will always be subversive activities. They allow us to regain a sense of what is old and wild in these islands by getting off the beaten track and breaking free of the official versions of things."
A newspaper article he wrote prompted many readers to share their own passion for wild swimming and offer to introduce him to their favourite places. He visits an extended family living in an old mill who swim straight out of their window in the pond. Scrambles down ravines to perfect waterfall pools. Sails to a remote island to swim in a huge turquoise slate quarry, raised up and surrounded by the sound of the wild sea. Plunges dangerously into an underwater cascade down a sequence of limestone basins. Goes to sleep and dreams of swimming, the two states begin to merge.
He discusses the role of immersion in religious ritual, and the Victorians' recognition of its health giving properties. The decline in outdoor swimming's popularity as a result of pollution, private property and the growth of indoor chlorinated pools. He tells of the feats of mostly unknown swimming heroes. A mathematician calculated how and when to swim round the island of Sark, which he did 6 times. The last time, at the age of 74 he was drowned near the end in a sudden surge of rough weather.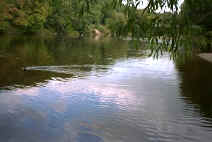 The consciousness of danger is ever present. Wind, rain or cold can bring peril to the strongest swimmer, the calmest water. I am a much more cautious bather than the writer, but I feel as he feels that the danger is part of the heightened experience. I cannot enter the water without asking permission, wordlessly. I resonate too with his perception of how strongly sensuous, even erotic the passion is. It is my secret love, who I sadly say goodbye to each autumn and am joyously welcomed back by in spring.