New Ecopsychology Journal
Posted on April 22, 2009 by Amy Lenzo
posted by Thomas Joseph Doherty, Psy.D.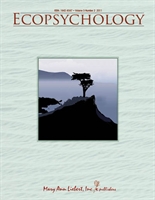 To recognize Earth Day, I am proud to announce the launch of Ecopsychology, a new, quarterly online peer-reviewed journal from Liebert Publishing. You can download free articles from the first issue
Ecopsychology is an international forum for environmentally-related psychology practice and research. In particular, it promotes the development of environmentally-relevant counseling and psychotherapy and application of environmental and conservation psychology in novel settings. The journal welcomes contributions from a range of disciplines and theoretical and methodological perspectives. Instructions for authors are available Here
Contributions to issue one include an historical overview of ecopsychology as a perspective and social movement,  an introduction to addressing environmental issues in therapeutic practice, research on the relationship between mindfulness and sustainable behaviors, and an application of psychodynamic theories of self and attachment to understanding connection with nature.
Thomas Joseph Doherty, Psy.D.
* Sustainable Self, LLC
* Lewis & Clark Graduate School of Education and Counseling
* Ecopsychology Journal
* Email