Standing in the Light: My Life as a Pantheist
by Sharman Apt Russell
New York: Basic Books, 2008.
Reviewed by John Scull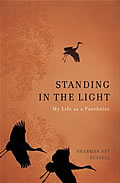 I have seldom encountered a book that reflects my worldview as clearly as Standing in the Light: My Life as a pantheist. The book is both a sort of quirky spiritual autobiography and a treatise on the history of Pantheism.
The book follows several different but interrelated threads: On a personal level, she describes her experiences as an on- and off- and on-again Quaker, her personal history living in both urban and rural New Mexico and elsewhere, and accounts of exploring and assisting with research (banding birds) in protected natural areas. Interspersed with these personal stories and reflections she gives us a clear and insightful discussion of pantheism from the early Greeks to the present.