"This Changes Everything" – A book review
Posted on April 6, 2015 by Mary Hernandez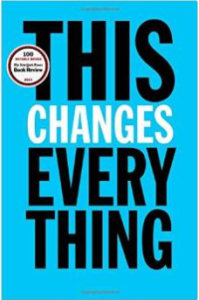 This Changes Everything
by Naomi Klein
Knopf Canada, 2014.
Reviewed by John Scull
---
"At nearly 500 pages plus 60 pages of endnotes, Klein has written an imposing book. Most of the space is taken up with case histories to illustrate and reinforce Klein's arguments. Klein is a very good storyteller and she has done a great deal of research; the book is a goldmine of specifics. In this discussion I summarize her conclusions, omitting most of the factual background for those conclusions. I assure you it is there.
In chapter after chapter Klein convincingly makes her points, but I do not believe she succeeds in her main point that it is capitalism vs. the climate. In fact, she even suggests several "capitalist" solutions to the climate crisis. As I will describe later, I believe she has done something even more valuable by reframing the issue as Extractivism vs. Blockadia, abstract economics vs. our connection to the earth."