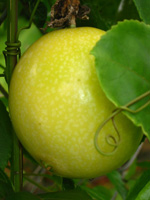 "Lilikoi" ~ Hawaii 05
Photo by Amy Lenzo
"Because of the interconnectedness of all minds, affirming a positive vision may be about the most sophisticated action any one of us can take."
--Willis Harman
EcoTherapy 101: Therapy for a Stressed Out Society by Dominique Larocque is a reprint of a 1999 article this Québécois author wrote for Food & Leisure.
November, 2005

Ecological Collapse, Trauma Theory and Permaculture by Lisa Rayner traces interesting similarities between the principles of permaculture and those of trauma theory.
July,05
Beyond Gaia: An Exploration of Earth Consciousness and Gender by Andrew Rothery Andrew's back! with another great article, looking at gender within environmental philosophy.
July,05

The Singularization of Reality
:
Implications of a Synnomic Evolution of Language to Semiotics, Biosemiotics, and Ecopsychology
by Jorge Conesa-Sevilla.
Part one
of this significant piece of research from the Sleep Laboratory at the University Hospital of Bern, Switzerland is now available for download, courtesy of
Sign System Studies
, where it was published this month.
September, 2005
Download Part Two of the above work by Jorge Conesa-Sevilla..
June,05
Biophilia Versus Lebensneid: Seeking Ecological Balance by Dr Jorge Conesa-Sevilla Download the conclusion of this three-part presentation connecting ecopsychology and semiotics
8 September, 2005

"To work our way towards a shared and living language once again, we must first learn how to discover patterns which are deep, and capable of generating life."
~ Christopher Alexander: A Timeless Way of Building
The Ecological Self, by John Seed. Published here in advance of its inclusion in the April edition of EarthLight.
March,05

Scuola di Ecopsicologia, by Marcella Danon. A look at an Italian school that tells us why Ecopsychology is important everywhere.
March,05

Homo Novus, by Andre Gaudwin. As Homo novus we will indeed acquire the collective mental ability to help Nature (our collective body) recover its health...
January, 05
Petro-Novo Primitive: Art or Graffiti? by Jorge Conesa-Sevilla is an exciting series of new artwork carved directly into the ancient rockfaces around Conesa-Sevilla's home in the Swiss mountains. At between 5-20 cm depth, he reaches the pink feldspar substrate that gives definition to the designs.
In the accompanying article he ponders the legality of what he is doing and answers the question leveled at him by his teenage children, "Are you just creating glorified graffiti?", followed by details on his technique.
November, 2005
Michael Aleksiuk
contributes a pdf of his manuscript Billy Beaver: An Environmental Allegory
, whose premise is that the human striving for status is at the psychological root of environmental degredation. This 'children's story' has been heartilly
endorsed
by academics and scholars worldwide as a breakthrough in understanding.
November, 2005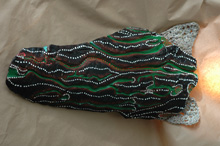 Shamanic Art by the multi-talented Jorge Conesa, on exhibition at La Chaux-de-Fonds through 30th of September.
September, 2005

"Be kind, for everyone you meet is fighting a great battle..."
- Philo of Alexandria
ICE Member Uri Cogan
submitted a stunning panoramic photograph of his fishpond to the
World Wide Panorama
project this year...
view it here
!

8 September, 2005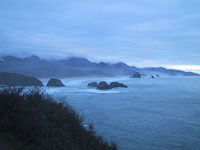 Photo by John Scull, from his Grizzly
Creek PhotoJournal ~ 08 June,05
Pilgrims to Grizzly Creek
: John Scull shares a stunning Photo-Journal
of his trip to this politically inspiring California redwood forest.
June,05

cut adrift
a poem by Duncan McGehee
cut adrift
still at sea,
choppy sea.

gashes in my psyche
the sea pouring in,
membrane breached.

made permeable,
like egg shells by DDT,
for a greater cause?
a lesson or…a point,
maybe a solution
resolution, dissolution.
whatever - it hurts bad,
cut adrift.
08 June,05

Former ICE member & Gatherings contributor Phoebe Wray has a piece on Cetacean Spirituality in the monumental Encyclopedia on Nature & Religion...
March,05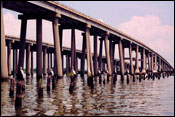 "Resilience"
Photo by Michael Aleksiuk
Manchac, Louisiana, 2003

Posted February, 05
Native American author and historian Vine Deloria, Jr. passed away Sunday, Nov 13 at the age of 72. Author of more than 20 books, Vine was perhaps the most important Native American intellectual of the 20th century.
November, 2005
In EcoOedipus (pdfs parts one and two), award-winning playwright Maria Katzenback explores the concept of tragedy and comedy as ecological forms, and uses the Oedipus story as a frame for a whole generation's fate, with is both to bring a plague upon the earth and to become its healer.
November, 2005
NatureConnect graduate Marie McLean has just finished a very beautiful Flash website to announce her new ecopsychology practice. The site includes a wonderful 'free gift' that you will want to experience.
November, 2005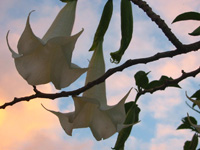 "Datura"~ Hawaii 05
Photo by Amy Lenzo

Jonathan Dosick's organizational efforts to legislate access to fresh air, as described in A Coalition for Fresh Air.
September, 2005
Hugh Wilson interviewed many Ecopsychology practitioners, including those in ICE, to write this article, recently published in the UK newspaper, The Independent.
September, 2005

Gatherings contributor Marcella Danon writes with inspiring news of Ecopsycologia, and an invitation to subscribe to their quarterly newsletter "EcoEco (ECOpsychology & ECOunseling) News" by sending her an email with "Ecopsychology Newsletter" in the subject line.
September, 2005
The environmental magazine Taproot makes a significant contribution to improving our relationship with ourselves and the environment in its current issue, which profiles Mike Cohen's pioneering work with NatureConnect.
June,05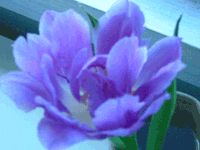 Blue Flower by Amy Lenzo ~ 05 May,05

Linda Buzzell-Saltzman reviews
Last Child in the Woods: Saving our Children from Nature-Deficit Disorder
,
by Richard Louv
, which she believes belongs on every ecotherapist's bookshelf.
June,05
"There is a language beyond human language, an elemental language, one that arises from the land itself."
Linda Hogan, Chickasaw Writer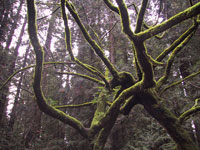 ~Photo by John Scull, from his Grizzly Creek PhotoJournal ~ 08 June,05

Experiencing the Sacred in Nature, by John Swanson
Download this pdf adaptation of a wonder-full workshop Dr. Swanson gave at the 2004 'Nature & the Sacred: A Fierce Green Fire' conference in Corvallis, Oregon.
June,05