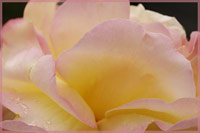 "Inner Rose"
Photo by Amy Lenzo
A graduate research project undertaken by Bryan Grimwood utilises a narrative depiction of his experiences as a wilderness canoe trip guide. Immersed in nature, his relationships with particpant and crew, and his own mental processes, Bryan finds himself In the Thick of It.
June, 2008

Professor and practicing eco-therapist Jorge Canessa-Sevilla contributed this original piece on Friedrich Wilhelm Joseph von Schelling (pdf: 24k), tracing the antescedents of ecopsychological thinking to this German Romantic's Naturphilosophie.
February, 2008

The Spiritual Implications of Climate Change, by John Croft begins "As we move beyond the ten-thousand year Holocene interregnum of the last Ice Age, rather than returning to the cooler autumn and winter of the Pleistocene glacial optimum, we are racing towards a global summer unlike any ever before witnessed upon the earth. This summer of global warming poses the greatest spiritual challenge ever confronted by humankind."
Keep Reading...
October 2007

Mark Schroll's valuable contributions to the field of EcoPsychology continue with Wrestling with Arne Naess: A Chronicle of Ecopsychology's Origins, recently revised and published in The Trumpeter.
May 2007

Thanks to global change agent Lisa Berg, who sent us two articles by the extraordinary author, magician and philosopher David Abrams.
One, Waking Our Animal Senses, was previously published in Wild Earth: Wild Ideas for a World Out of Balance, edited by Tom Butler in 2002; the other, Storytelling and Wonder, is published here for the first time.
March 2007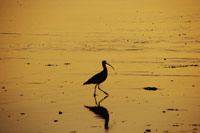 "Seabird"
Photo by Amy Lenzo

Kathy Pettet's inspiring article on alchemy, nature, and spiritual transformation, The Art of Transmutation: Gestalt in Nature (pfd: 132k), was submitted as part of her doctoral work with Nature Connect.
January 2007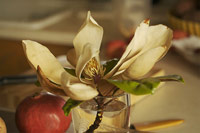 "Magnolia in a Vase"
Photo by Amy Lenzo
John Seed has an article on Ecopsychology published as a visiting author's page on Shumacher College's website. Read other articles of his on his own website.


November, 2006

Juicy, Wild & Fertile
"Ecology and psychology, having grown up on different sides of the mountain, met one day in the thick brush at the ridge line separating their home territories. Their first contact was awkward and hesitant. They began to circle, they danced, and finally they joined.
Their offspring are twins. One is vigorous, skillful, joyous, and sustainable environmental action. The other is the wonder, intimacy, healing, expansion, and grace of finding ourselves at home in the world. They realized, too, that there was much work to be done together. There were other such liaisons in the thick brush at the edges, but this one was particularly juicy, wild, and fertile."
~ from a course called Ecopsychology and Environmental Psychology, taught by John V. Davis at Naropa, CO, USA
December, 2006
Charley Scull's beautiful film, Naturally Connected, documenting the pioneering ecopsychologist Micheal J. Cohen and his work is now available for free viewing. Watch it free on the Internet Movie Database or purchase the DVD with extra features.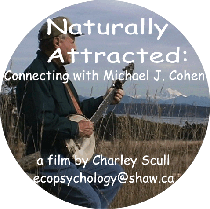 This letter came from reader Anne Saucier, at Prides Corner Farms in Lebanon, Connecticut:
"Thank you ... For offering these beautiful and potentially life-changing ideas to the world at large.

I "work" (it's often more natural communion than work) for a large grower in rural Connecticut, USA, where we subscribe to the knowledge that our Earth nurtures and heals. One organization we work with is Hope in Blooms, a non-profit group who plants gardens for men and women with breast cancer; we also grow a product line called Pink Ribbon plants, which helps support breast cancer research, and a line of indigeneous plants to encourage sustainable gardening, which helps support the National Wildlife Federation.

I enclose a photo of a portion of our Arboretum on a summer morning...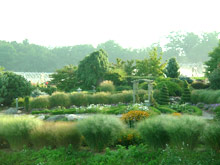 Such peace and resuscitation, if we only stop to recognize how essential Nature is to our well-being."
December 2007

Open yourself to Gary Caganoff's evocative Song of the Tarkine... (and have a look at the wonderful photographic gallery on his website!)
December 2007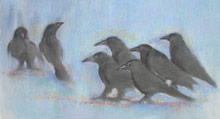 "Crows" by Nanda Currant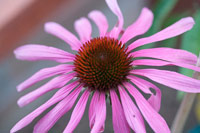 "Echinacea"
photo by Amy Lenzo

Frances Roberts, who submitted a short story to Gatherings several years ago about the beginnings of her creative life, is at it again with the finely wrought Aging Well, a memoir about nature, her father, and the aging process.
March 2007

Everything is connected... no one thing can change by itself.
—Paul Hawken
This Ecopsychology Poem was compiled of lines written by Prescott College students taking an Ecopsychology class taught by Dr Jeanine M. Canty.
February 2007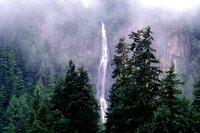 Photograph by Ian McAllister©, donated for the following poem by Raincoast Conservation
Creekwalker, a poem by John Beaton, begins
"He jogs the hop-scotch patches worn to the earth
through treefrog-greens and sunlight spears and sparks
where grizzlies yield fawn-lilies careful berth,
confining their paws to these well-trodden marks that stitch the forest...
Read On for More...
November, 2006

Jon Barfield muses on the question What is EcoPsychology? as part of an ongoing inquiry on the ICE mailing list...


November, 2006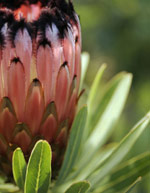 "Protea Bird"
Photo by Amy Lenzo
Composer David Rothenberg's new CD, Whale Music, is a record that will "change the way you listen to the sea". Buy your copy today.
February, 2008

Linda Buzzell's review of Bill Plotkin's Nature and the Human Soul is re-published here with permission by EcoTherapy News.


December 2007

Ecopsychology author Craig Chalquist's speech at the student-organized Voices for Change event at Sonoma State: The Environmental Crisis is a Crisis of Consciousness: Bringing the Psychological Dimension Into the Discussion (link sent in by eco- therapist Linda Buzzell-Saltzman)
November 2007

John Scull alerted us to Green Drinks, a social "Meet-Up" service designed for people in the environmental field. Go online and see what's happening in cities all over the world!
October 2007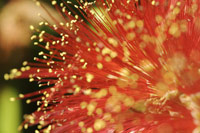 "Bottlebrush"
Photo by Amy Lenzo
My Name is Chellis and I'm in Recovery from Western Civilization
by Chellis Glendinning has been re-published as part of New Society Publications' new series The Sustainability Classics.
Originally published by Shambhala in 1994, My Name is Chellis quickly became a classic of the eco-psychology movement.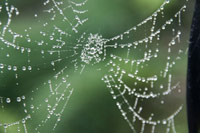 "Dew Web"
Photo by Amy Lenzo
Glenys Livingstone's recently published PaGaian Cosmology: Re-inventing Earth-based Goddess Religion, a wonderful philosophical and practical guide to seasonal ritual and modern nature religion, is also available on Glenys' website via the creative commons.


July 2007

Susan Loonsk, 'expressive ecopsychology' teacher abd director of the non-profit Art to Earth, at the Northland Center for Art & Ecopsychology, reminds us that
"In ancient times before science, art, and religion were viewed as separate realms, our fundamental thoughts and feeling were expressed through the language of images. We used art to celebrate and understand the natural world around us. Through art today, we can open our senses and intellect to experiencing and connecting with the human and nonhuman world for the physical, psychological, and spiritual health of all. This is art as environmental awareness."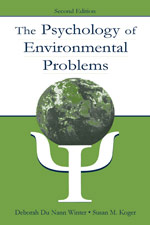 Ann Archibald and John Scull review The Psychology of Environmental Problems, by Deborah Du Nann Winter & Susan M. Koger.
December, 2006

Circling San Francisco Bay: A Pilgrimage to Wild & Sacred Places by Ginny Anderson goes significantly beyond the scope of a standard guide book, introducing a series of unusual walks and eco-adventures within the context of healing ritual.
If you live in the bay area (or are planning a visit), Circling San Francisco is an invaluable guide to the places where inner and outer worlds meet.
November, 2006