THE GIRL ON THE OUTCROP
By Frances Roberts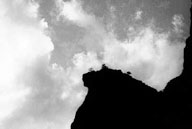 The story of life begins somewhere, at some particular point we happen to remember. When we think of the earth continually shifting, moving and reconfiguring as new land rises and falls; oceans become mountains; rivers and lakes dry up; islands flourish and cease to exist: it must be true that life is invisible, hidden in the crystalline stone that is the bedrock of our existence. It's the inner experiences that resonate with the natural changes in the substrata of existence -- experiences that carve out and engrave themselves upon the inner landscape, simultaneously, shaped and formed out of the fiery magma that worked upon the stone until it crystallized.
As if happenstance, once in a while, one of these crystalline veins protrudes towards the surface of the earth. As if, like an ocean wave, some feeling of euphoria has surged towards the wide-open sky creating a sea change that expresses itself as one's exterior life. Once deeply buried in the eons of time, on the surface this outcrop, as it's called, enters another time. Visible, and so calculable and measurable.
And soon with human contact a mimesis occurs. One day an ancient ancestor out hunting takes shelter underneath the outcrop. That night, he dreams of a great fiery bull. Upon awakening, so taken with the power of his dream, immediately perceives within the contours of the fiery crystals ions, something ineffable, illuminating the image of the beast. He screams in awe. And so, art is born in that cry. Or, is it religion that is born? For now the ancient ancestor is bound by his imagination to call this place sacred and eternal, Becauese some supernatural power has intruded to transfigure this commonplace outcrop into an altar for the ritual of placating those divine powers that control human destiny.
A sudden flash of a camera flashbulb disturbs my silence. No, not so much disturbs as it cracks open my silence, sending me across time between past and present. The flash engraves its imprint upon my retina. A brilliant purple aura surrounds the object of my vision – a small outcrop in the Welsh mountainside. I reflect as I stare at the faded and blue photograph in my hand; is the colour blue because in midlife, I am touching into the lament of my soul? It is 45 years since I stood on that outcrop. Here I am at 14, my innocence still untainted, standing triumphantly upon an outcrop in the Welsh mountains, the birthplace of my ancestors. I am, newly awakening to life.
But the photo is also a visual joke –