TABLE OF CONTENTS
ARTICLES

A Journey Tracing Roots
~ Peter Cock

An Ecopsychological Methodology of Place
~ Sylvie Shaw

Pets And Farm Animals In Our Place
~ Peter Cock & Sylvie Shaw

Giving Voice to Nature Loss
~ Jennifer Taylor

The Burying Place
~ Lisa M. Lipsett

Is it ever too late?
The Rescue of Tower Hill
~ John Scull

Burnout in Landcare:


A Summary of findings from the Shepparton Irrigation Region
~ Ian Byron, Allan Curtis & Michael Lockwood

Ecotourism and Ecopsychology:
Nature Connecting through Hunting
~ Peter Cock

An Ecopsychology Approach to Guiding in Nature
~ Peter Cock
INTERVIEWS

Going the Distance


~ An Interview with Cam Walker,
Coordinator of Friends of the Earth (Melbourne)

Working with the Garden of Sixty Five Roses
~ An Interview with Basil Natoli
Community Gardener

Playing Nature's Music
~ An Interview with Maya Ward
BOOK REVIEW

Sacred Ecology
~ Sylvie Shaw
POETRY

Summer Haiku
Willa McDonald

Inverloch
(by the sea)
~ Peter Carroll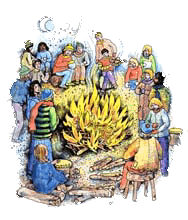 Gatherings:
Seeking Ecopsychology
---
Winter Issue: March 2001
Winter Editors ~ Sylvie Shaw & Peter Cock
Assisted by John Samulis & Maureen Press
Fire llustration by Alexi Francis
Photographs by Peter Cock, Lisa Lipset, John Scull, Sylvie Shaw
---
Welcome to the Winter issue of Gatherings
. . . or for those of you in the southern hemisphere, the summer issue.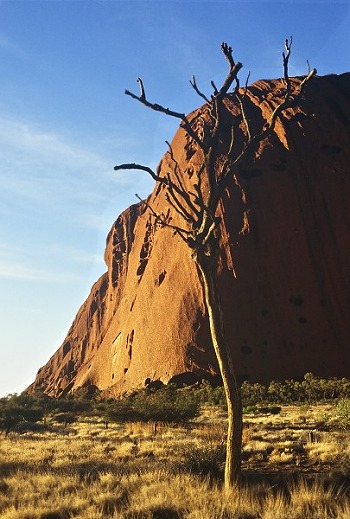 From the great southern land down under – a land of sweeping plains and desert sands and much more, we welcome you. Our theme for this issue is sense of place - spirit of place. Through ecopsychology we explore many and varied ways for connecting with nature: these can renew our person and energise our passion and action for regenerating our earthy home.
We begin this issue with Peter Cock discussing reconnecting with our roots and what it can teach us about our sense of our country. Connecting with nature can inspire a different way of approaching research as Sylvie Shaw outlines. As both Peter and Sylvie discuss, nature connecting can be nurturing whether with pets and farm animals, or with Basil Natoli in his healing gardens at the Children's Hospital and on the inner city public housing estates.
However, as Jennifer Taylor says, we need to honour the loss and grief we experience when nature disappears. Lisa Lipsett explores this sense of loss in a different way and shows it can be a source of transformation and transcendence.
John Scull maintains it is never too late to contribute to the earth's regeneration. He takes us on a journey to a place which has been lovingly restored. Place restoration and land restoration can be personally healing but as Ian Byron, Allan Curtis and Michael Lockwood warn, we need to take care of ourselves in the process.
---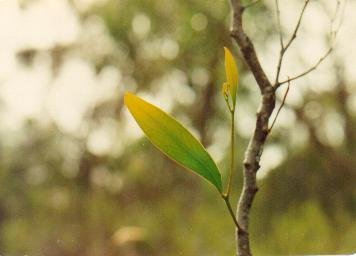 This issue is a call for broadening the scope of ecopsychology by looking at a wider range of pathways for our regeneration through nature connecting. Peter takes you on a trip to Northern Australia's Arnhemland for hunting, whereas Maya Ward plays nature's music and creates community celebrations. Sylvie's book review reminds us of the debt we owe to indigenous people for their ecological wisdom. This can be a pathway back to securing our roots as long as we are careful not to appropriate indigenous cultures while we seek our earthy heritage.
Peter then addresses how can we help others to deepen their nature connection. He advocates that we don't struggle so hard for legitimacy that our adventure with ecopsychology becomes coopted into a race for a new profession that is swept up into the cognitively-obsessed academy.
Cam Walker, from Friends of the Earth, is an illustration of a reflective activist who is going the distance in a holistic way. He illustrates that sustainable activism is possible when place and community are interwoven within an ecopsiritual framwork.
---
STOP PRESS
PROPOSED NEW GRADUATE COURSE - 2002
Peter Cock and Sylvie Shaw are currently designing an innovative and integrative Masters program - SOCIAL ECOLOGY AND THE SACRED: Reconnecting the Social and the Sacred through Nature.
Peter has received a grant from the university to develop the course and both are working on it. If the university endorses the proposal, the course will commence in March, 2002.
The course is open for overseas as well as local students. Its main focus is recreating the human-nature relationship through theoretical and experiential programs which include a Wilderness Sojourn in Australia's magnificient and varied naturescapes.
For further inquiries e-mail Peter Cock and check out the Monash University website.
---
We hope you've enjoyed this experience of Gatherings. If you have any comments on what you read in this issue, suggestions or contributions you'd like to see - or make - in the next issue, please contact the Gatherings editor.